Raoul is long. Irresponsibly long. Meanwhile, the Real Vision Bot has caught the mining bug and decided to order a pick and shovel on Amazon. What do you bet on? Bitcoin, gold, or both?
To make the race between the new digital gold and the old physical gold a bit more interesting, we commissioned this artwork depicting Raoul and our little buddy the Bot.
The picture comes with a physical 0.08 oz. bar of gold and a 0.005 BTC bitcoin wallet. That's equal monetary value as of 31 December 2020, which is the starting point of our race.
Give your BTC and gold the place they deserve in this strictly limited edition picture and show your friends that you have "skin in the game." It costs €1,000 and you can pay for it with your dirty fiat money.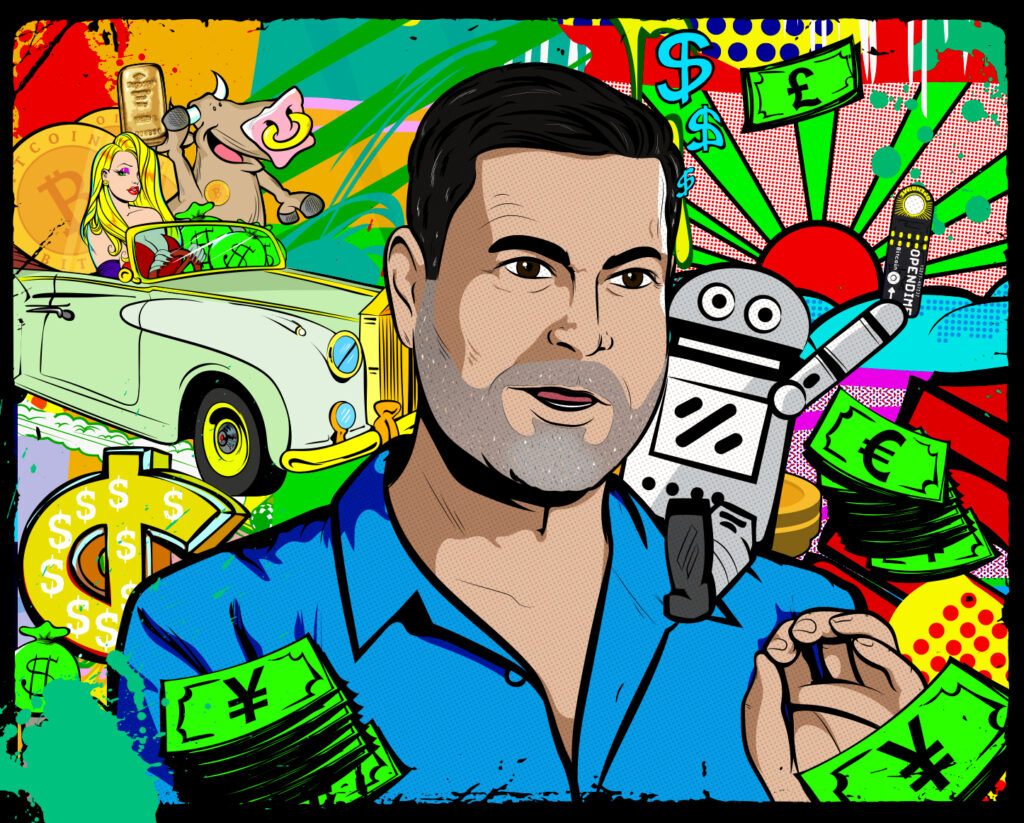 PHYSICAL PRINTS ARE SOLD OUT
Strictly limited edition (20 pieces), max. 1 piece per person

Non fungible token (NFT) including a digital high-resolution version of the picture will be transferred via opensea.io

Price: €1,000 per piece, no refunds

Art dimensions: 15.75" x 19.69" (40cm x 50cm)

Includes 0.005 BTC on an Opendime hardware wallet

Includes a 0.08 oz. Degussa .9999 fine gold bar
BTC and gold had equal monetary value on 31 December 2020

Includes insured national and international shipping with DHL Express

Item is shipped from Germany. Buyer is responsible for taxes and duties, if any

The Opendime wallet and gold bar are not physically attached to the artwork. If you'd like to place them onto the artwork, we're sure you'll find the right spot