After "Irresponsibly Long," "Institutional Exuberance" and "Corporate Takeover," it's time to honor the "Thought Leaders." Meltem Demirors is one of these, having put a lot of passion and intellectual depth into educating the crypto and non-crypto crowd.
Meltem is the author of "The United States of Shitcoin," an article that highlights the benefits of open-source innovations and decentralization. In the picture, hiding behind Meltem, is our artificial intelligence, the Real Vision Bot, keeping an eye on the race between the new digital gold and the old-school physical gold.
To pass time and keep our developer's engines running, Pomp, our other favorite thought leader and pizza delivery hero, was so kind to pop over with some pepperoni slices.
"Money has always been framed as a public good, one that must be stewarded by governments, when in fact, it is a private enterprise like any other which is fueled by personal agendas, regulation, and the quest for geopolitical hegemony." — Meltem Demirors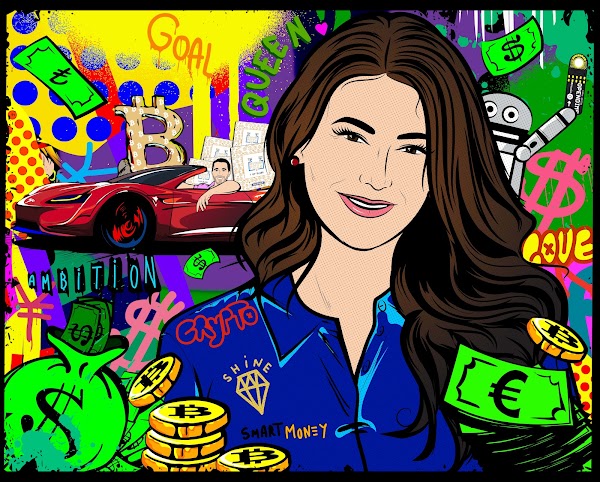 Strictly limited edition (XLII pieces). That's 42 – yes, the answer to everything.

Physical print not included.

The definition of a non-fungible token (NFT) is data stored on a digital ledger (blockchain) which certifies the digital asset to be unique and therefore not interchangeable (non fungible).

NFTs are like any other physical collector's item, but instead of receiving a painting (or print) to hang on your wall, the artist can use the endless capabilities of the digital space as their brush, and you get to purchase, own, and trade that digital artwork.

The technological breakthrough via blockchain is that digital art and collectibles can now have provenance, or "proof of authenticity" — a feature that was previously impossible.

Unlike traditional physical art, each time the NFT is sold, the blockchain records that transaction and the original artist is paid a percentage of the sale.